Microsoft announced that SMBv1 is not installed by default in Windows 10 RS3.
Also, some Ricoh devices only support SMBv1 and don't yet support SMBv2 or SMBv3.
SMBv1 needs to be selected in the Windows RS3 environment so that the "Scan to SMB" function can be used for those Ricoh devices.
Go to Programs in Control Panel and select "SMB 1.0/CIFS/File Sharing Support" to enable the Scan to SMB function, as in the image below.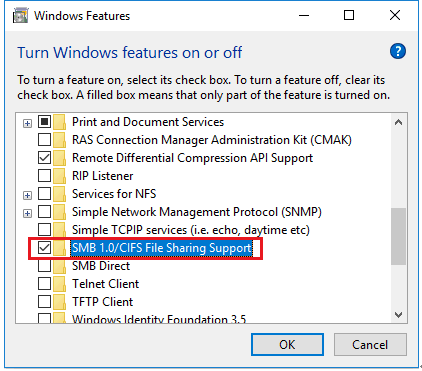 Reboot the PC
When the RS3 OS is not cleanly installed, but updated from older OS versions, such as Windows 7 or Windows 10 RS2, the SMBv1 value is inherited from the previous OS version.
This means that whether SMBv1 is enabled depends on how the RS3 OS was installed.